WHAT'S WRONG WITH THIS PICTURE?
A Healing Our World feature illustrating the insanity of our world.
This full page ad appeared in the local entertainment newspaper in Los Angeles. The advertiser is obviously telling us that buying shoes will make us feel better. Actually, this is often the case. How often have you felt depressed and immediately thought of buying something to feel better? I sure have - many times. We have been taught by our culture that the emptiness we feel inside can be filled by consumer goods. This idea is a convenient trap, created by those who want us to be in a constant state of pain and longing so we will buy their goods. Next time the feeling comes up, try siting with it. Feel the emptiness. Be afraid for a little while - it's OK. Do some journaling or artwork and try to fill the void with an experience in Nature rather than the mall.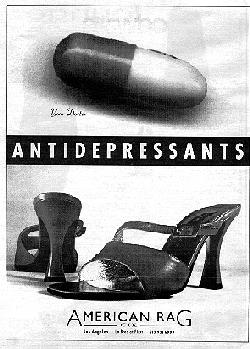 If you would like to translate any of the articles into French, Portuguese, Italian,
Spanish or German, go to



and enter the URL of the article for a free translation.


All Images and Content
Copyright (c) 1998, Jackie A. Giuliano Ph.D.
jackie@deepteaching.com